Due to the current situation with the new measures and travel restrictions, the Conference on Fire Safety at Sea (CFIS) 2021 was switched from a hybrid to an only virtual event.
On December 14, the first Conference on Fire Safety at Sea took place, organised in the framework of the EU funded project LASH FIRE. The conference, which is planned to take place bilaterally, gathered experts in Maritime Fire Safety for presentations and discussions about the latest innovations in ro-ro ship fire safety, including preliminary results from the LASH FIRE project. Here is a summary of the day together with the speaker presentations.
The day was opened and moderated by the coordinator of the LASH FIRE project, Franz Evegren, Director of Fire Safe Transport at RISE Research Institutes of Sweden. Now halfway through the 4-year project, Franz was happy to welcome the around 100 participants that had showed up to listen to different speakers engaged in the fire safety topic. After a brief introduction of the speakers, Franz presented the panel discussion topic that would end the day: "Implementation of fire safety technical developments".
Keynote speech
Maja Markovčić Kostelac, EMSA
The Conference was kicked off with a keynote speech by Maja Markovčić Kostelac, Executive Director of the European Maritime Safety Agency based in Lisbon, Portugal. EMSA considers fire safety as one of the corner stones of their work, and they have an important role to play in the process of supporting organisations like IMO with information for improved fire safety regulations.
Every second year we are faced with a severe accident at sea related to fire. Maja emphasised the importance of LASH FIRE that with its 25 organisations, universities, and industries, has picked up the work of fire safety. She welcomed the development of new applications and technical solutions that will improve safety at sea.
– We shall never forget that safety is not something that simply concerns itself with the present, safety also means looking to the future. EMSA will continue to contribute to the overall efforts to make ships safer, says Maja Markovčić, Kostelac.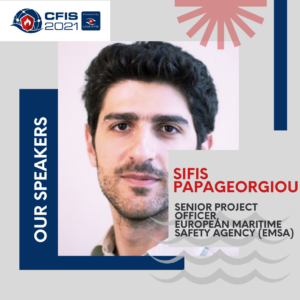 Setting the scene – Setting the scene from a regulatory and industry perspective
Sifis Papagerogiou, EMSA
Sifis Papagerogiou, Senior project officer at EMSA, was talking about the regulatory process around the issue of improved fire safety at sea. He emphasised the importance of the work done in the FIRESAFE I and II projects conducted by RISE, BV and Stena Teknik. The recommendations from these projects regarding cost effective RCOs, was forwarded to IMO together with concrete proposals for regulatory amendments. These recommendations have been assessed by IMO and an adaptation of SOLAS is ongoing.
– I have been following the process of improved fire safety from the very beginning and I am glad to see where we are now. It is important to feed the regulation bodies with new information for safer ships, says Sifis Papagerogiou.
Sifis considers FIRSAFE to be a good foundation from which new projects can be developed. There are still some items that are left open for the future and he hope that LASH FIRE will help to improve and revise the guidelines and regulatory amendments that will be adopted by IMO in 2024. Some work is needed on the regulatory side to make this happen.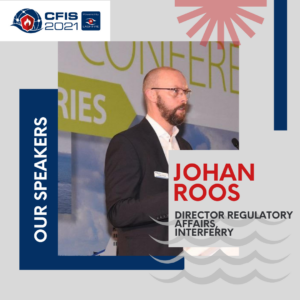 Setting the scene – Setting the scene from a regulatory and industry perspective
Johan Roos, Interferry

Johan Roos from Interferry gave the operator's perspective when it comes to fire safety. Interferry is a well-known shipping association representing the ferry industry world-wide, with more than 260 member companies.
Johan set the scene with some pictures from MS Norman Atlantic that caught fire in the Adriatic Sea in 2014. Fire safety has always been very close to the operator and there is a strong engagement in how safety can be enhanced. The industry therefore endorses the implementation of cost-effective solutions both for new and existing ships.
Unfortunately, IMO is not well equipped to address the operational aspects when it comes to fire safety. Johan refers to that EMSA endorsed good studies, but how IMO did not manage to distinguish well enough between justified RCOs and good ideas. Johan emphasised the importance of LASH FIRE, with its robust stakeholder involvement, and that the project has the capacity to come up with some good suggestions for IMO.
– The IMO's agenda, for proposals on regulations regarding fire protection of ro-ro vessels, is currently open to changes but will most likely be closed in March. This means that it will take another 4 years before they can be implemented in the next round. Therefore, we must make sure to deliver what we can NOW, before this window closes, says Johan.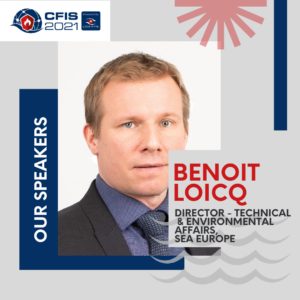 Setting the scene – Setting the scene from a regulatory and industry perspective
Benoit Loicq, SEA Europe
SEA Europe is the association of shipyards and maritime equipment manufacturers in the EU, Norway and Turkey. Benoit Loicq held a presentation on the role of SEA Europe in the LASH FIRE project, which is to coordinate the two advisory groups MAAG (Maritime Authorities Advisory Group) and MOAG (Maritime Operators Advisory Group). The MAAG consists of representatives of Flag States, EMSA and classification societies, and has the role to advise on future regulations and their implementation. MOAG is coordinated by INTERFERRY.
The work done in LASH FIRE builds on the outcome from the FIRESAFE I & II studies and aims to provide a recognized technical basis for the revision of international IMO regulations, which greatly enhances prevention and management of ro-ro ship fires. This is done by developing and demonstrating operational and design solutions which strengthen the fire protection of ro-ro ships in all stages of a fire, and which address current and future challenges, including regulatory issues.
– Twenty specific challenges have been identified, which are being addressed by new solutions developed and demonstrated with regard to performance and ship integration feasibility by system suppliers, researchers, ship owners and shipyards. All gained knowledge in the different work packages will help to design better ships with respect to fire safety, says Benoit.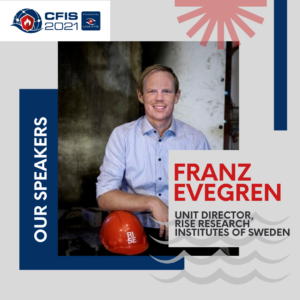 Legislative Assessment for Safety Hazards of Fire and Innovations in Ro-Ro ship Environment
– a project introduction
Franz Evegren, RISE
Franz Evegren from RISE, the coordinator of LASH FIRE, gave a brief introduction to the project. The 4 year European project is running from September 2019 to August 2023, which places this CFIS conference in the middle of the project. Franz highlights that the project tries to achieve ready to use technology that can be used in real environments.
But are ro-ro ship fires really a problem? The answer is yes. Franz takes us through history over a 15 year-period where 37 fires in ro-ro spaces has led to an average of 2,5 accidents every year (SOLAS). This has led to a number of initiatives from IMO and EC, including the initiative by EMSA to gather over 50 representatives from European Flag states and accident investigation bodies to address fire in ro-ro spaces. This led to the projects FIRESAFE I and II, and the LASH FIRE project is a continuation of this work.
The LASH FIRE project addresses risk, design, ignition, detection, extinguishment, containment, as well as regulatory issues to help enhance the prevention and management of fires at sea. This without recourse to external intervention.
– 20 challenges have been identified that are thoroughly investigated in six work packages. The project aims to develop solutions that address these challenges, which can be reflected within forthcoming revisions of relevant IMO regulations, says Franz.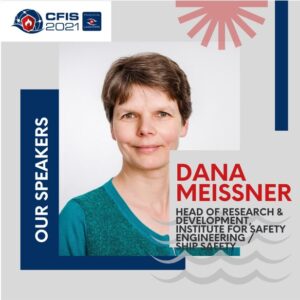 Damaged Li-Ion -Batteries – "the gas ghosts"
Dr Dana Meissner, Institute für Sicherheitstechnik
Dr Dana Meissner from the Institute für Shicherheitstechnik/Schiffssickerheit, held a presentation referring to "the gas ghosts of Li-Ion-Batteries". The first ghost is the "ghost of Oxygen" that feeds the fire itself if there is a battery fire. It is often claimed that Lithium-ion battery fires are difficult to fight since the battery cells themselves can generate the oxygen required for a fire. However, this is a misconception since only a minimal amount of oxygen leaves the cells. The answer is rather related to the second "ghost of Hydrogen". Hydrogen is produced during a thermal runaway and can burn at very low oxygen concentrations. The "ghost of hydrogen" is related to the misconception that extinguishment of Li-ion batteries with water will increase the risk of hydrogen release and explosion. Application of water cannot contribute to production of hydrogen, except during the "after extinguishing" phase if metallic lithium inside the battery reacts with water. This is especially a hazardous in case the battery is in a closed room, which can collect the gases and create an explosive atmosphere.
– The optimum supressing agent would be a cold inert medium. This can stop both the production of heat in the cells, contributed by oxygen, and the external heat source, consisting in burning Hydrogen, says Dana.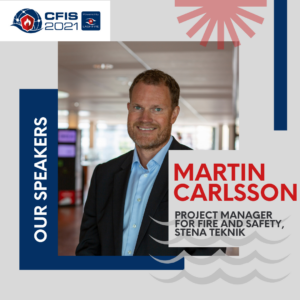 Safe transport of Alternative Powered Vehicles
Martin Carlsson, Stena Teknik
Martin Carlsson from Stena Teknik held a presentation on "Safe transport of alternative powered vehicles – State of play". Martin started with an overview of the current situation in the world when it comes to sustainability and that the RoPax industry must be part of the solution. This means being proactive regarding safety when it comes to new technologies coming up.
The questions from crew members today are "how safe are electric cars" and "how can we deal with them in case of fire".  From RoPax passengers there is an additional question, "Is it safe to travel with you?"
Martin states that the probability of fire in an electric car is not higher than for a car with fossil fuel, but the conditions are different. One example is that batteries are better shielded than a fuel tank and that they are harder to ignite. On the other hand, if a battery ignites it is possible to prevent fire spread but the battery will be difficult to extinguish. Martin highlights good ways to check what is onboard, like scanning of licence plates and sorting of cars by fuel category. In the future, car battery management systems connected to the ship, which could give instant information on errors could be helpful.
– As there is no higher probability of fire, the actions taken must be well considered. To stow vehicles by fuel type is a good solution, but currently it is hard to determine the fuel type at first glance. Add the fact that many operators have limited turnaround times, says Martin.
The challenges of using drone technologies for surveillance and fire prevention
Boris Durán, RISE
Boris Durán from RISE is working in LASH FIRE WP08 – Ignition Prevention and held a presentation on "The use of drone technologies for onboard surveillance". Boris states that 90% of all ro-ro space fires on ro-pax ships originate in the cargo and that two thirds of the fires are electrically induced. He also highlights that new materials are used in these spaces without fire requirements. This calls for good detection and assessment of the cargo during stowage and transportation.
Boris describes the problem with vehicles tightly stowed in ro-ro spaces on Ro-pax ships, ro-ro cargo ships and especially on vehicle carriers. This reduces the mobility for drones. For vehicles needing power during transport there are cords running over the decks which is also a challenge for rolling drones moving around on the floor.
LASH FIRE has developed an AGV (automated guided vehicle) that is adapted for these environments.
– It is a small and durable ground drone that is fasts to manoeuvre. The unit is equipped with sensors and camera and it has WiFi connectivity with the purpose to detect changes in temperature and recognise deviations, says Boris.
The investigation of a flying drone as small as a hand with a camera is also tested for identification of vehicle models.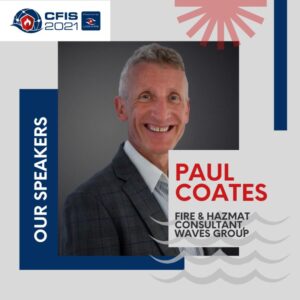 Commodore Clipper fire 2010 – Lessons learnt –Fresh ideas 2021
Paul Coates, Waves group
Paul Coates gave an insight to manual firefighting on ro-ro ships. Paul is a firefighter at the Waves Group and shared his experiences from several fire scenarios at sea, in particular from his involvement in fighting the Commodore Clipper fire. The priority is to contain and prevent fire spread, to keep the fire caged up as long as possible.
Paul lifts the work with the fire on MS Sorrento in 2015, where there were challenges with drencher systems and melted electrical cables. Another extinguishing work Paul took part in was that of MS Courage 2015, a vehicle carrier that suffered severe damage. Then, he gave a thorough walk trough of the course of the fire and the challenges met during the extinguishing work of the Commodore Clipper fire, with 39 crew members and 62 passengers in June 2010.
To improve the efficiency of the firefighting work, Paul shares how the crew is trained in real conditions at sea for better situation awareness. He also comes with some fresh ideas on what could be improved when it comes to equipment such as water monitors, cold cut lances and smoke curtains.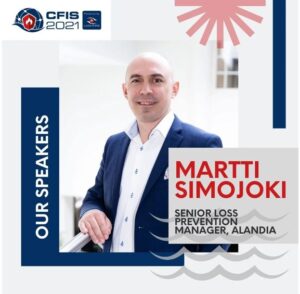 Ro-Ro/-Pax and Vehicle Carrier fire safety from an insurers' perspective
Martti Simojoki , Alandia insurance
Martti Simojoki talked about the insurance perspective when it comes to Car Carriers. Martti states that safety is the sum of technical, human, and organisational factors that all contribute to fail safety. One signal failure does not cause a catastrophe. He shows several severely destroyed cargo spaces due to fire, many times started by electrical faults. The stowage distance between vehicles is often very small and it is not uncommon to carry second-hand cars. In case of fire, it is hard to reach the location of fire due to the tightly packed cars. The accident often happens far away from shore and car fires spread very quickly, which means that the fire has a long time to escalate.
– The overall trend is that fires onboard ships are increasing and fires in RoRo ships are predominant. The solution is to work together to solve this for a safer tomorrow and lasting results, says Martti.
 Safe and suitable firefighting
Julia Burgen, RISE
Julia Burgén is a Human Factors engineer at RISE Research Institutes of Sweden. Her presentation revolved around the research project Safe and suitable firefighting.
The International Code for Fire Safety Systems is a set of international treaties organised by IMO under the SOLAS Convention, to aid in emergency response aboard ships. A problem in relation to firefighting is that the suits worn by smoke divers ashore are not allowed for smoke divers at sea since they are not wheel marked, if it they perform better than what is required. Based on research it is shown that firefighting suits approved for land are sufficient considering radiant heat, temperature, and toxic gases such as HF. Furthermore, the MED directive (for wheel mark) refers to several standards of firefighting suits, of which only one is suitable for smoke diving. This has caused much confusion.
– I think the suits certified according to EN 1486 and ISO 15538 should generally be avoided, and I suggest that the SOLAS and MED regulations should be updated, says Julia.
Stowage Planning Tool supporting fire risk management based on historical data: a new way for cargo distribution in Ro-Ro ships
Erik Styhr Petersen, NTNU
Erik Styhr Petersen works at the Norwegian University of Science and Technology and presents the "Stowage Planning tool supporting fire risk management based on historical data: a new way for cargo distribution in Ro-Ro ships".
Statistics show that 90% of all ro-pax ship fires in ro-ro spaces are initiated in the carried cargo (vehicles and cargo units). Hence, in reality, no one knows what is burning and what can catch fire.
The solution is better stowage planning, based on risk assessment for the individual unit and its stowage position. A stowage planning tool and cargo screening will provide the crew with accurate information in case of firefighting. The base for this is a cargo fire hazard database which is based on historical data that indicates the risk related to cargo type. As it is a long process from the booking of the transport to the arrival at the final destination, there is a need for a flow through the whole chain to minimize the risks.
– We need to work closer to the operator to know more about the individual cargo unit. If we know what is actual burning, we have a better change to fight it. LASH FIRE is halfway and we need final implementation, testing and validation, says Erik.
Digitalization of ships and its impact on containment
Ruben Wansink, Europe for STI marine
Finally, we meet Ruben Wansink who is the Regional manager of Europe for STI marine. His presentation has the theme "Digitalization of ships and its impact on containment. The irony of wireless data."
We are all digital today. Connectivity has become a necessity of business and operations onboard vessels. Ruben takes an example with the largest Cruise Ferry in the world that has capacity for 2,750 passengers and 250 crew members. In theory 3,000 devices must be able to connect online. The question is, how does this correlate to fire safety? These automation systems add up to an enormous number of cables that have an impact on fire containment as the pass through fire boundaries on the ship.
– In most newbuild projects we see the EZ-Path Marine Cable Transits, being installed very early in the building process. Further installation can then be done quickly. This means breaches in containment are reduced, meaning the chance of fire spreading from one fire zone to another is reduced, says Ruben.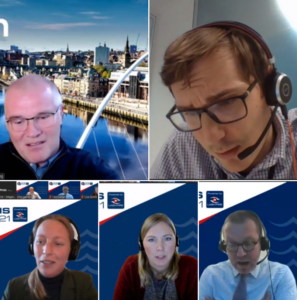 Panel debate on Policy implementation of fire safety technical developments
Moderated by John Garner, Interferry 
Panalists:
Lars Lange, International Union of Marine Insurance, (IUMI)
Lisa Gustin, Stena Line
Sif Lundsvig, DFDS
Eric de Carvalho, Bureau Veritas
Colin Gillespie, North of England P&I Club