From the 19th to 20th of February 2020, three members of the LASH FIRE consortium visited the ro-pax vessel Stena Flavia, owned by the shipping operator Stena Line.
The Stena Flavia, built in 2008, is a ro-pax vessel of 186 meters in length and with a capacity of 830 passengers. She covers the route between Nynäshamn (Sweden) to Ventspils (Latvia), crossing the Baltic sea in about 8 hours and 30 minutes.
Martin Carlsson from Stena Teknik (Sweden), Tomas Kaland from NTNU Samfunnsforskning (Norway) and Jamie Bleye from Jovellanos Training Centre – SASEMAR (Spain) participated in an expedition which aim was to analyse the manual screening of cargo, the fire patrol routes, the equipment needed for the first response in a potential fire as well as the decision making process during the management of a fire on board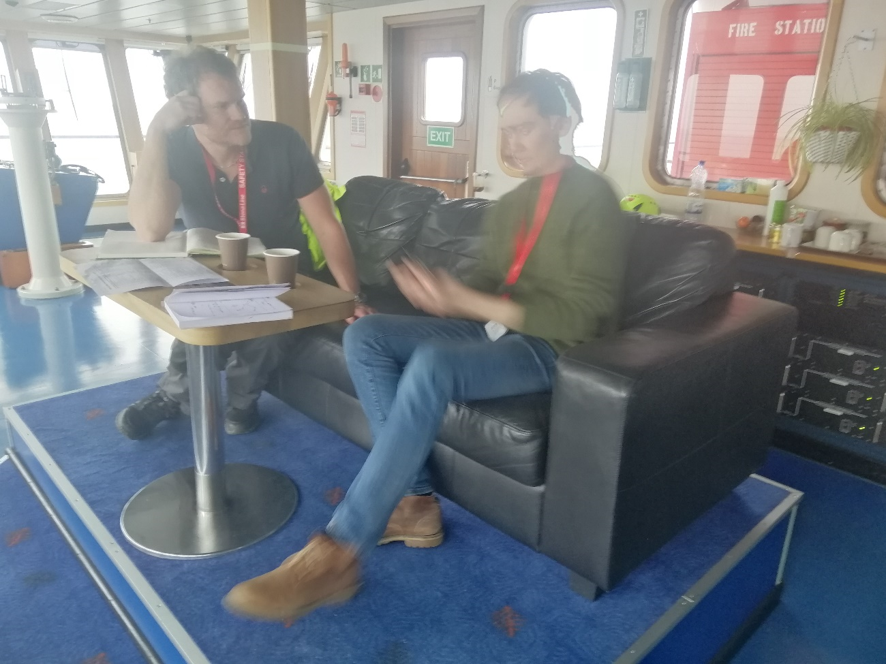 The visit lasted 24 hours during which they saw the cargo hold spaces (the main deck and the weather deck), the drencher room station, the fire lockers and the bridge.
In the cargo hold spaces they observed the tight and narrow space left between trucks, making the parking of freight quite tight and difficult for a potential firefighting operation.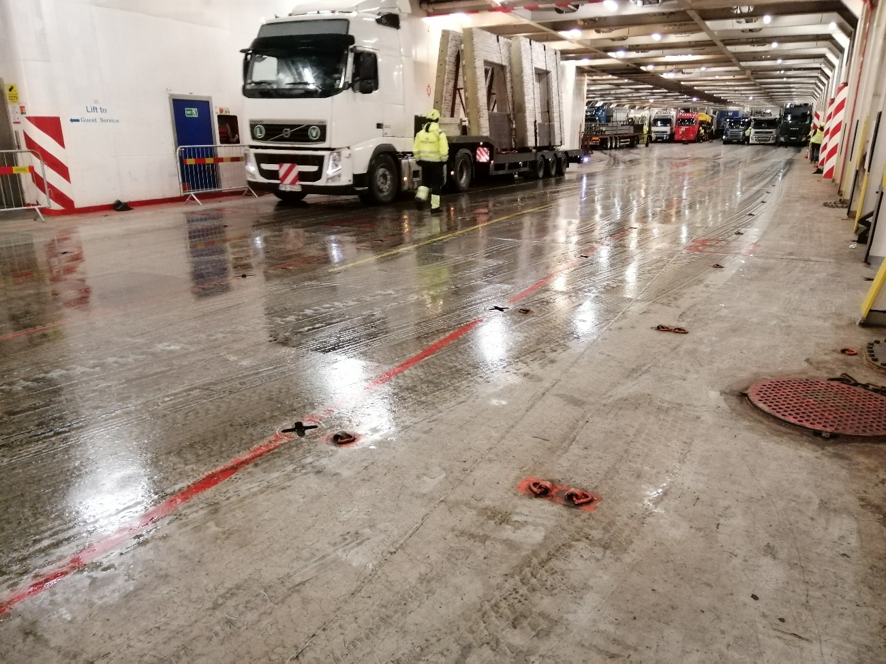 Furthermore, they went to the drencher room where they were informed how the drencher system is activated. It was clearly stated that all members of the crew know how to activate the system and that they are advised to do so in any situation which requires its use.
In the fire lockers they saw all the fire equipment –  full gear, helmets, safety boots, gloves, fire hoses, nozzles, communication systems, foam equipment, torches etc. – needed for a successful manual firefighting operation.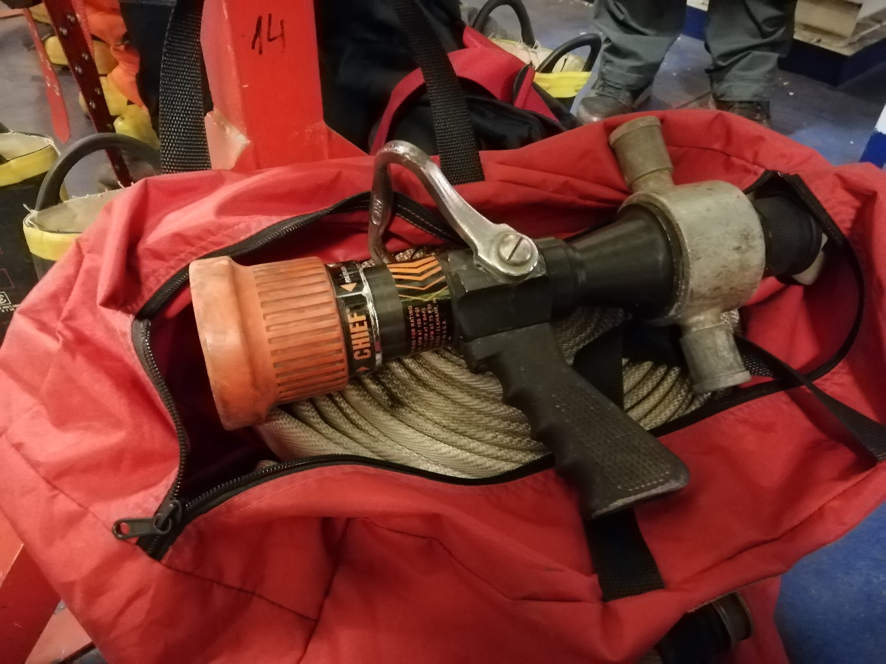 On the bridge they exchanged ideas and had interviews with the crew members about the decision-making processes in case of a detection in the Fire Safety Centre. Early detection and confirmation are undoubtedly seen as the key factor for the capability of extinguishing the fire.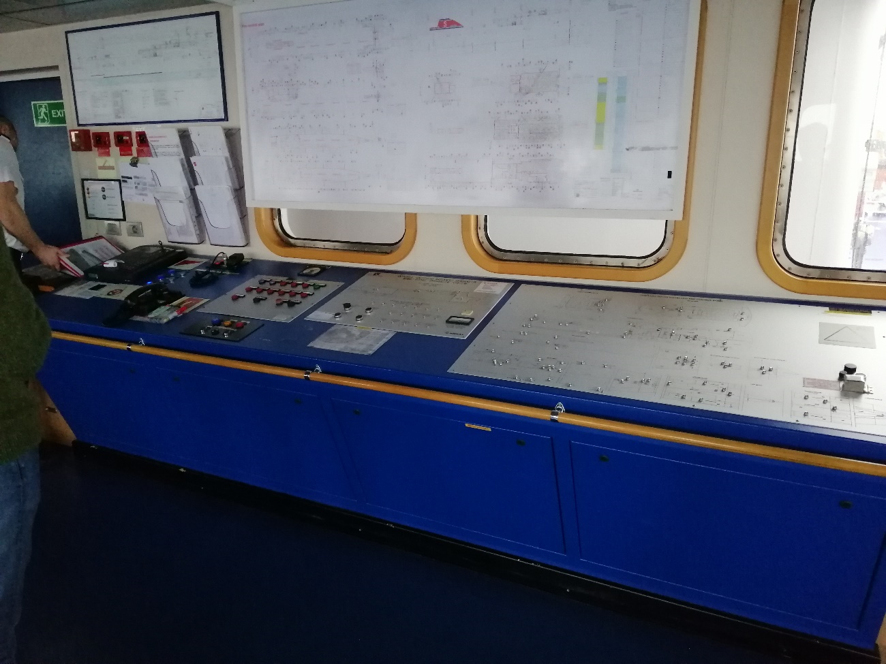 They also followed the AB patroller during his day/night route through the accommodation block, common areas and cargo hold spaces.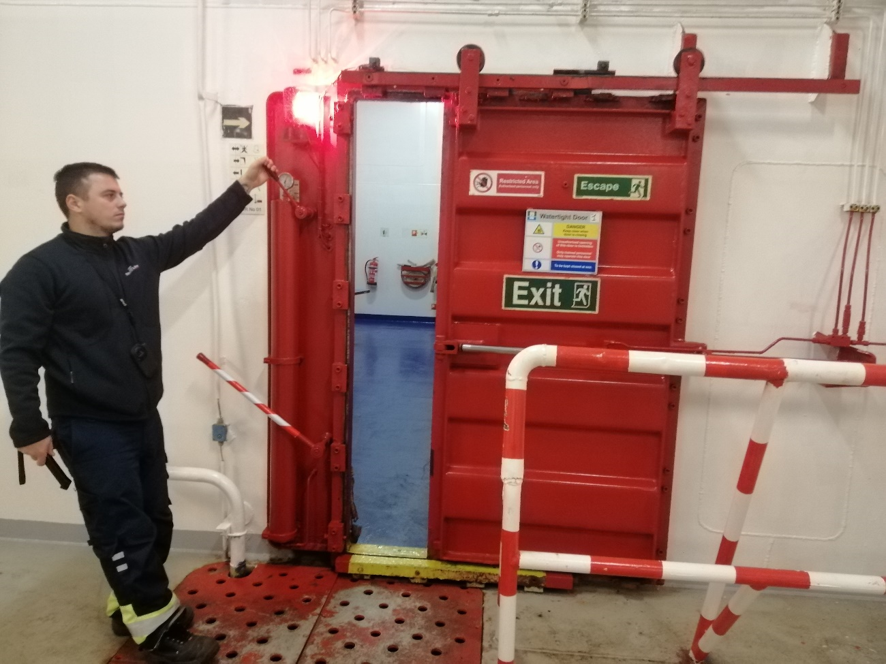 During the loading operations at port, they could perform the manual screening of cargo at stern ramp during the arriving of vehicles aiming the detection of leaking fuel tanks, smoke out of the ordinary, strange smell, noises or suspicious behaviour in general.
The team thanks all the crew members of Stena Flavia for their kind collaboration and willingness to share their experiences. It was truly enriching!