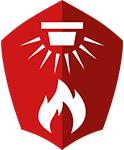 Detection
WP9 provides for quicker and more reliable fire detection, localization and confirmation in all types of ro-ro spaces by evaluation of new and advancing technologies.
WP09
Detection
Once a fire has started, how can you detect and locate it in the fastest way and hopefully extinguish it at an early stage? How can you quick and easy hand over the baton to the person who is to carry out the extinguishing work? This is the questions investigated by LAHS FIRE working package number 9.
The WP09 team have the following objectives on the agenda:
This work package will provide for quicker and more reliable fire detection, localization, and confirmation in all types of ro-ro spaces by evaluation of new and advancing technologies.
Development, demonstration, and evaluation of quick and reliable detection on weather deck in full-scale means.
Development

, demonstration, and evaluation of quick and reliable detection on closed and open ro-ro spaces in full-scale alternative and complementing means.

Investigation and development of new and advancing technologies for automatic visual fire confirmation and localization.
In the best of worlds, we are spared from fires. Still, they do occur and when they do, we want to suffocate them as soon as they ignite. If we succeed, we do not have to face the consequences of a full-scale fire, such as the destruction of technology, cargo, or in worst case injured people. 15 minutes after ignition is considered as a "magical number" as the negative outcome tends to increase after this time limit. If we manage to detect and localize the fire just as it starts, it can many times be handled with easy-to-use tools and equipment. On the other hand, if the fire is allowed to grow and spread, it may become very difficult to extinguish. Time is key!
The work of WP09 is closely integrated to the work done in many of the other Work Packages such as WP05 with its insight in what can actually work on board and WP04 making risk analysis of tested and suggested solutions from the WP09 team.  Work wise it is a chronological process: WP08 tries to prevent the ignition of a fire, WP09 tries to detect it as soon as possible and finally, when the alarm starts, WP10 takes over focusing on the extinguishing part. The goal of WP9 is to detect the fire and hand it over to the extinguishing actions in WP10 as early as possible.

Finding the best available technology
To manage to reduce the reaction time, the answer is sensor technology that is adapted to ro-ro spaces different conditions and challenges. Systems that are sensitive to smoke and heat but still does not give false alarms. Systems that are quick and reliable.
In WP09 the team is looking into the different technologies available on the market. Existing technologies that today is implemented on vessels are compared to newer ones to find out which combination could solve the task most effectively.

Testing
Some lessons learned so far is that smoke on an open ro-ro deck is harder to detect with a smoke detector due to wind or deep beams mounted in the deck head. Detectors that require smoke or hot gases to be transported from the fire to the position of the detector will be activated late if this transport is delayed. Such delay in transport can be caused by unfavourable wind conditions where the smoke and hot gases are blown away from the detectors and diluted.  Another cause of delay can be the deep beams that are in the deckhead. Both of these challenges are tested in lab scale where the delay of activation of different detectors were recorded.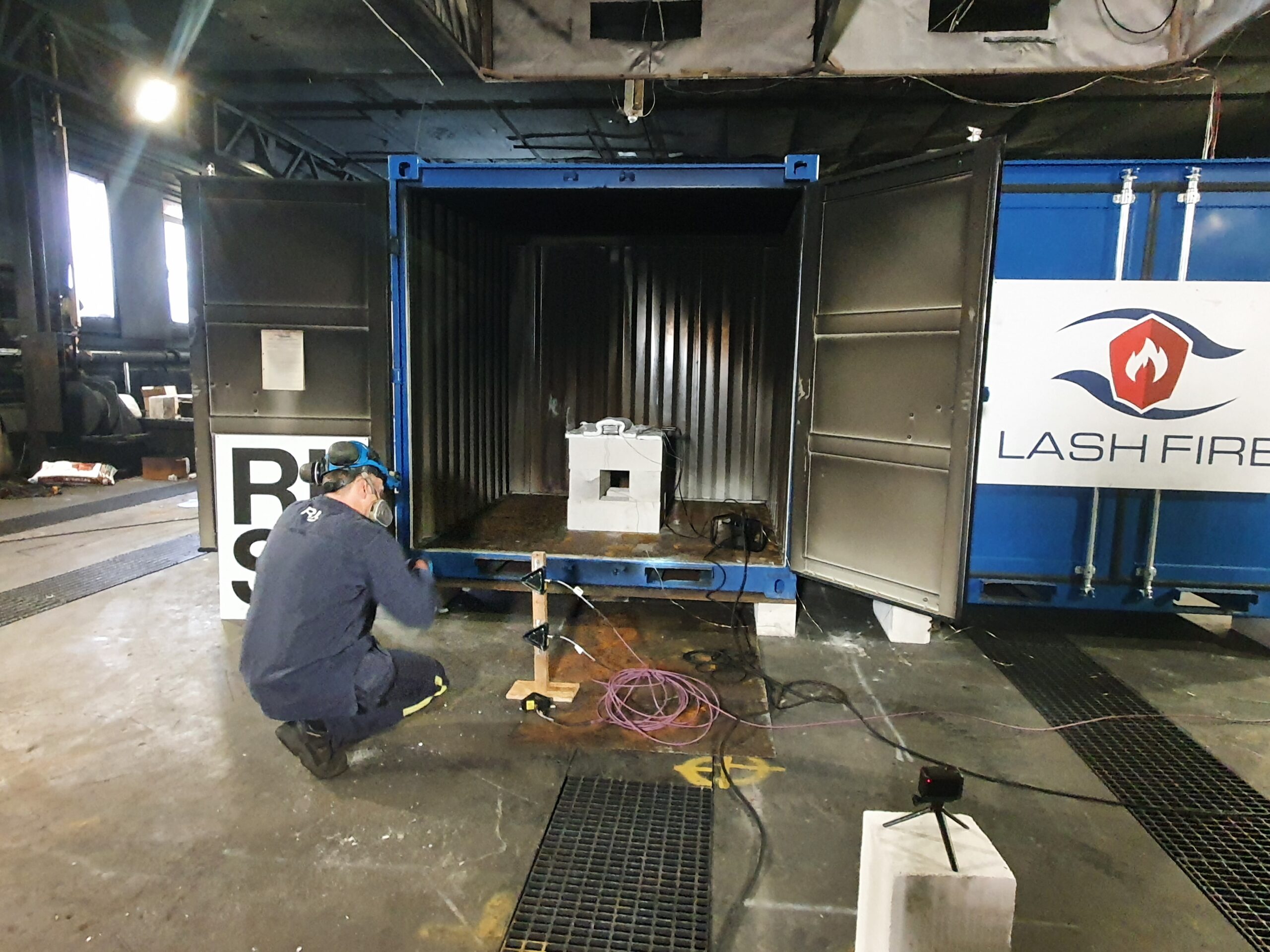 Figure 1: Lab scale tests in the large fire test hall at RISE Fire Research in Trondheim, Norway. A fire is ignited in between steel containers while a range of fire detectors are operating to detect it. Deep beams are mounted in the ceiling to obstruct the free flow of smoke and hot gases to the detectors.
Detectors on weather decks have also been tested. Up to now there has been no regulative requirement to have detectors on these locations. Traditional point smoke or heat detectors are normally mounted on the deck head, and cannot be used in weather decks. The testing has showed that there are other detectors that are detecting fires from a distance that can be successfully used in these locations. Infrared heat detectors can spot heat at a long distance and flame detectors can locate flames. Both systems can be used with good results and WP09 hope this can lead to a change of fire regulations. This shows that relevant detection is also available for use on weather decks, and that the regulations may be updated to take this into account.

Status August 2021 – The WP09 Actions:
Action 9-A Weather decks
Infrared cameras and flame detectors have been tested in June 2021 in the large scale fire test hall at RISE Fire Research in Trondheim, Norway. Flame detectors are triggered by the light at specific wavelengths that are emitted from a flame. These detectors provide vesy fast detection when the flame is within the detectors field of view.  Infrared heat detectors can detect a fire based on the infrared radiation that is emitted from hot surfaces and gases near the fire. This can detect concealed fires where the flame is not directly visible from the detector position.
The next step will be to install these systems onboard an operative ro-ro ship and finally test these detectors with real fires on board during 2022.

Action 9-B Open and closed ro-ro spaces
In this action detectors for open and closed ro-ro spaces are tested. These spaces are traditionally protected with point smoke or heat detectors where the transport time from the fire to the detector may be delayed from wind and ventilation conditions or ceiling beams. An alternative to these detectors can be linear heat detectors. These detectors are measuring the temperature along a sensing cable that can be fixed below the deck head and provide a detailed heat map of the ro-ro space.
Other types of fire detectors, like video detection, flame detectors and infrared heat detectors can be used in open and closed ro-ro spaces if their field of view is sufficient. The area coverage of these detectors will be strongly dependent on the position of mounting and if their field of view is blocked by the cargo or other obstacles.
These detector systems are tested in lab scale in the large fire test hall at RISE Fire research in Trondheim, Norway, and will be further tested on board a ro-ro ship under normal operation and during fire tests on board in 2022.

Action 9-C Localization and confirmation
Action C has the purpose to deal with information from the different detectors onboard supporting the manual detection. Today someone runs to location of the alarm to find out if it is true or false. After this the person contacts the bridge for activation of systems. This manual handling is time consuming.
With infrared cameras and video surveillance the work can be simplified for those sitting on the command bridge. The systems used today provide a varying degree of information in addition to which fire detector that is triggered. A careful selection of available data can be presented to the operators and improve the possibility to get a quick overview of the situation to help decide which mitigation actions to initiate.
Different detector system offers different information that can be optimised for the command bridge.
Here WP09 works close together with WP07 "Inherently Safe Design" to reduce the potential for human error, accelerating time sensitive tasks and providing more comprehensive and effective decision support, by increased uptake of human centred design. Such as "should a sprinkler system activate sooner based on certain information?